10th Benguela International Fair (FIB) 2022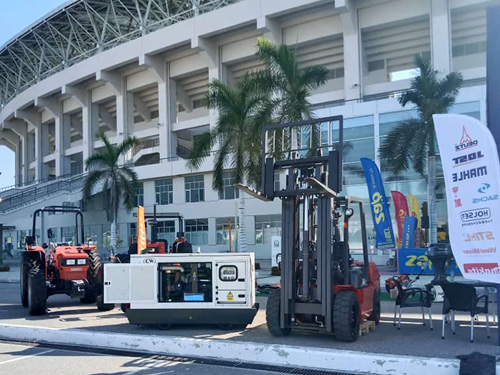 The 10th edition of the Benguela International Fair (FIB) took place once again at the Ombaka National Stadium, in a ceremony chaired and officially opened by the governor of Benguela province, Luís Nunes. C. Woermann Angola was honoured to receive Your Excellency at the opening of FIB in its stand and to present its wide range of services and technical equipment.
We hereby inform you that we had the honour of winning the prize for the best stand in the category "Machinery and Technical Equipment" at the 11th edition of FIB 2022.
It was held from 25 to 28 May 2022, from 10 am to 6 pm under the slogan "Agribusiness as a support for development in the southern region of Angola" the Benguela International Fair (FIB) was held at the Ombaka National Stadium. This fair was held as part of the celebration of the 405th anniversary of the city of Benguela.
The fair was attended by 227 exhibitors. According to data from the organisation, it was marked by a greater presence of exhibitors from the trade and services sector, which tops the list of 13 economic activities with 24% representation. Agribusiness, however, follows with 15%, food and beverages (10%), telecommunications and information and communication technologies (9%), manufacturing (8%) and the banking services and insurance sectors (6%). A total of 5,800 visitors were registered.
C. Woermann Angola was present with a multi-brand outdoor stand demonstrating the wide range of equipment and brands we sell on the Angolan market. Namely with chainsaws, tractors, outboard motors and much more. It was a successful fair with active participation of manufacturers of the brands we represent as well as our customers who made a point of visiting us.