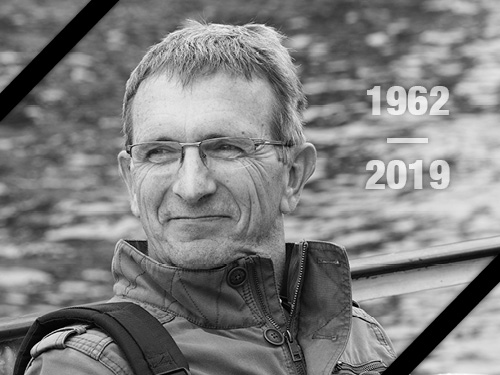 Mit großem Bedauern müssen wir kundtun, dass unser Prokurist und Leiter der Automotive Abteilung, Herr Steffen Grose, nach langen Monaten den Kampf gegen den Krebs verloren hat.
In seinen mehr als 35 Jahren im Unternehmen hat er zu dessen Erfolg entscheidend beigetragen und haben wir gemeinsam viel Neuland beschritten und manchen Sturm gemeistert.
Mit seiner besonderen, analytisch denkenden, fokussierten und anpackenden Art war Herr Grose ein prägender Teil unseres Unternehmens und hat auf vielfältige Art seine Kenntnisse der afrikanischen Märkte und der Automotive Welt eingebracht.
Steffen Groses Wirken bei C. Woermann begann bereits mit der Ausbildung. Dem folgte ein Studium zum Wirtschaftsingenieur. Anschließend kehrte er zur Firma zurück, um 1989 die Leitung der ghanaischen Niederlassung in Kumasi zu übernehmen und wenig später zum Geschäftsführer der Tochtergesellschaft in Ghana berufen zu werden. Die während seiner Zeit eingeführten Marken Stihl und Michelin gehören noch heute zu den Stützen unseres Geschäftes der dortigen Niederlassung. 
1995 folgte der Wechsel zurück ins Mutterhaus nach Hamburg, wo er die Leitung der Automotive Abteilung übernahm. In den folgenden fast 25 Jahren hat Steffen Grose das KFZ-Teile Geschäft unseres Unternehmens nicht nur deutlich ausgebaut, sondern auch immer wieder umgebaut, um dieses auf die Veränderungen in den Zielmärkten als auch auf die Konsolidierung in der Zuliefererbranche anzupassen. Hierbei hat er sich bei Lieferanten, Kunden und im Kollegenkreis einen Ruf als hochgeschätzter Fachmann, der viele Entwicklungen vorhersah, erarbeitet.
Seine analytische Klarheit, seine Kompetenz und Begeisterung für Afrika, verbunden mit seinem norddeutschen Humor frei nach seinem Motto "Irgendwas geht immer", sind uns ein Vorbild geworden und geben uns Ansporn, das Geschäft nach diesen Maßstäben fortzusetzen. 
Wir werden ihn sehr vermissen!
----
With great regret we have to announce that our Head of the Automotive Department, Mr. Steffen Grose, lost the fight against cancer after many months.
In his more than 35 years with the company, he has made a decisive contribution to its success and together we have broken new ground and mastered many storms.
With his special, analytically thinking, focused and hands-on approach, Mr. Grose was a formative part of our company and contributed his knowledge of the African markets and the automotive world in a variety of ways.
Steffen Grose's work at C. Woermann already began with his apprenticeship. This was followed by a degree in industrial engineering. He then returned to the company to take over the management of the Ghanaian branch in Kumasi in 1989 and shortly afterwards to be appointed Managing Director of the subsidiary in Ghana. Brands such as Stihl and Michelin, which were introduced during his time in Ghana, still today form pillars of our today's subsidiary's business.
In 1995 Steffen Grose moved back to the parent company in Hamburg, where he took over the management of the Automotive Department. In the following almost 25 years he has not only significantly expanded the automotive parts business of our company, but has also repeatedly restructured it in order to adapt it to the changes in the target markets as well as to the consolidation in the supplier industry. He has earned a reputation amongst suppliers, customers and colleagues as a highly esteemed expert who anticipated various developments.
His analytical skills, his competence and enthusiasm for Africa, combined with his Northern German humor, freely according to his motto "Always, something is possible", became a model for us and motivate us to continue the business according to these standards.
We will miss him very much. May his soul rest in eternal peace!